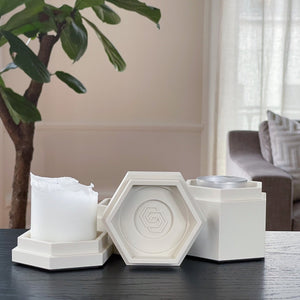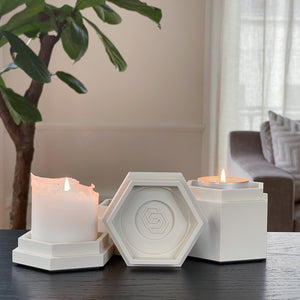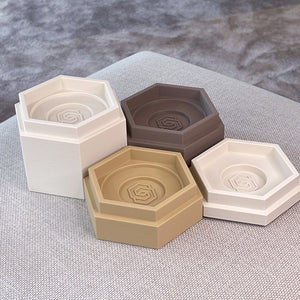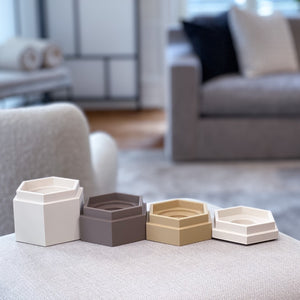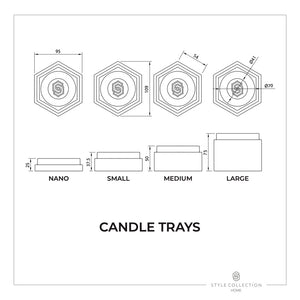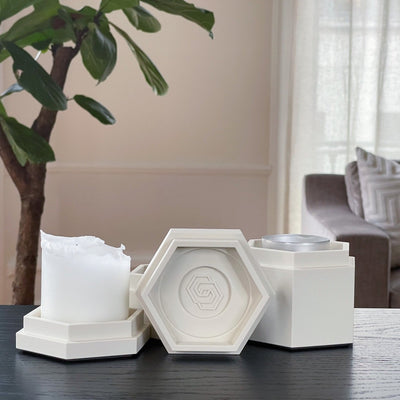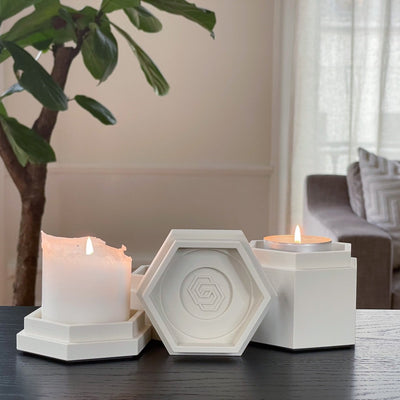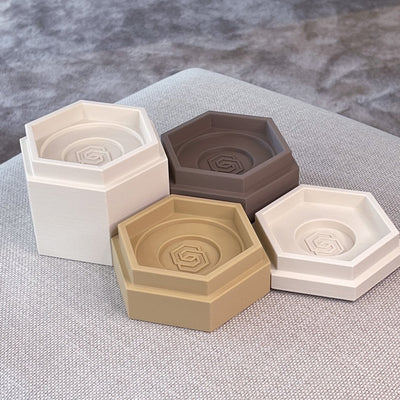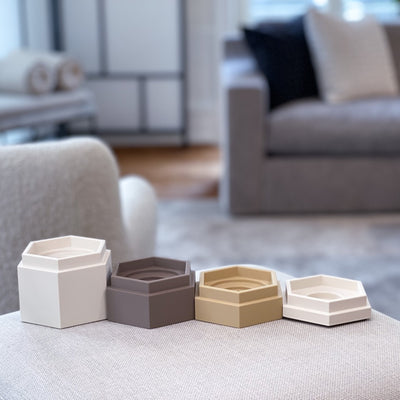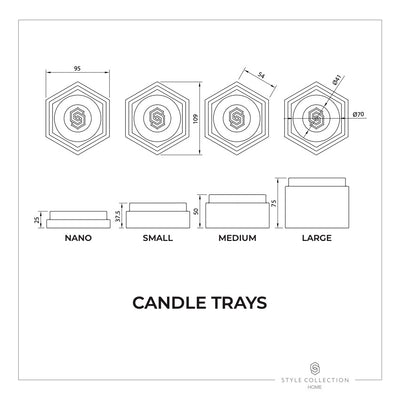 The STYLE COLLECTION HOME Geneva candle holder is the perfect candle holder in any setting. It can be a beautiful stand alone piece or by adding more, create endless exciting and elegant combinations. Mix and match with different colors and heights. Use with both pillar candles and smaller candles. The Geneva candle holders is the candle holder solution you all have been waiting for that will work during any season of the year with its beautiful design and timeless approach. The more the merrier!
For more ideas on how to use these candle holders go to our Instagram page.
Not sure about the look or color? Order a product mini sample size.

Size & Color
Size
This product comes in 4 different heights (L x W x H) with a weight of approximately 200gr each (7 ounces).
Length x Width: 109 mm x 95 mm. This equals to approximately: 4.3 inches x 3.7 inches.
Nano: Height 25 mm (1 inch)

Small: Height 37.5 mm (1.5 inches)

Medium: Height 50 mm (2 inches)

Large: Height 75 mm (3 inches)
Not sure about the look or color? Order a product mini sample size.
Color
This product is sand coloured with a slightly warm undertone. It also exists in White, Beige, Camel, Earth and Dark Grey.

Material & Care
This product is produced and designed in Scandinavia.
The product is made of recycled and biodegradable rPLA which is a bioderived material originally produced from corn starch but recycled again from a controlled waste stream of berry baskets sourced in the EU. These materials will ensure a long, durable and environmentally friendly future for this item. This product is recyclable.
Each candle holder has been individually made and will therefore be unique.

If necessary to clean please gently use a water damp cloth.

The candle holder has protective foam feet underneath to ensure no scratches on the surface where it is placed.

Please handle this product with care. It is not a toy. 
DISCLAIMER: Please use good quality candles (stearin candles) and don't let the candle burn all the way down to ensure no heat damage to the product. If you get stearin on the product let it cool down and then peel off.