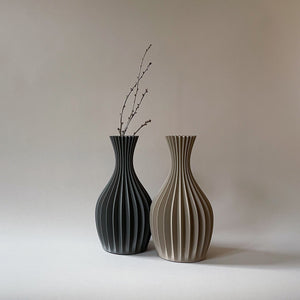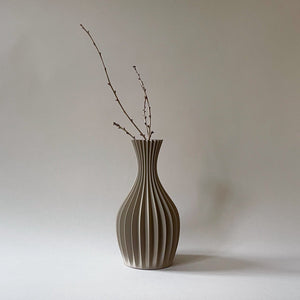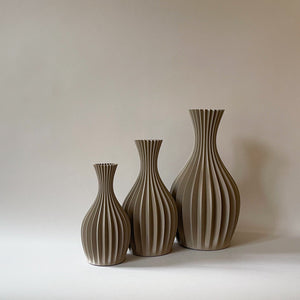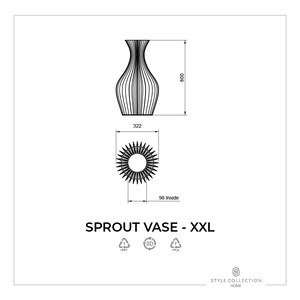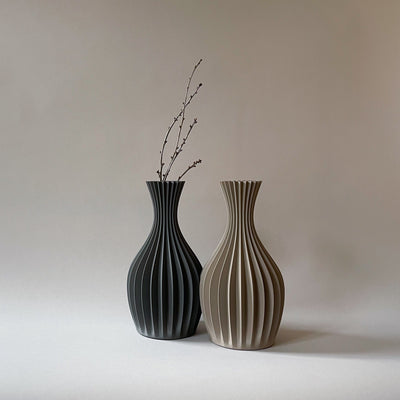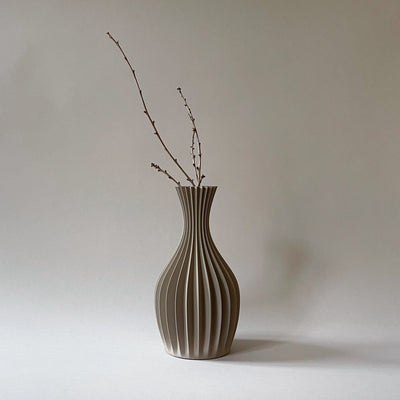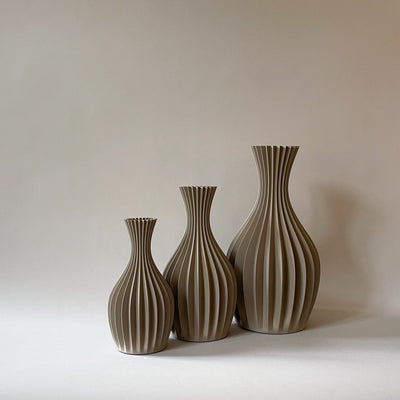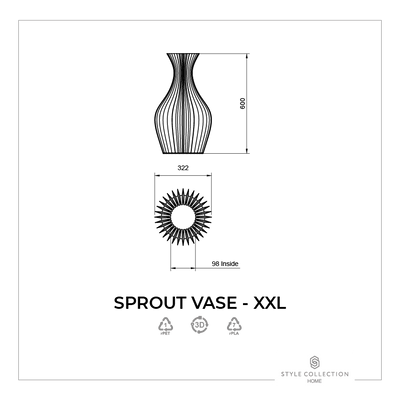 A STYLE COLLECTION HOME vase is a beautiful addition to any table, floor or piedestal. The Sprout vase is the ultimate elegant vase that just like sprouts, will grow on you and in your home. The subtle spikes make is easy match and place close-by each other to grow the impression even more.
Please note that this product can only be shipped if you live within an area where Budbee operates. This is due to handling logistics. You can also pick it up in Malmö, Sweden. Contact order@stylecollectionhome.com if you have any further questions.
Looking for another style? Explore our other vases. Not sure about the look or color? Order a product mini sample size.
For inspiration on how to style your home with this vase visit our Instagram page.
Size & Color
Size: This vase is made with a method and material logic that makes it lightweight and yet durable. This product exists in 1 floor vase size and 4 table vase sizes.

XXL: Height 60 cm, Widest outer diameter 32.2 cm, Smallest diameter 9.8cm (the inside of the neck of the vase)
Find the table vase versions here.

Color: This product color is earth, deep brown/beige and has a slightly cool undertone. It also exists in dark grey.
(The images are temporary and does not show the floor vase, only the table vase sizes) 
Not sure about the look or color? Order a product mini sample size.
Material & Care
This product is produced and designed in Scandinavia.
This product is made of recycled and biodegradable rPLA which is a bioderived material originally produced from corn starch but recycled again from food packaging waste sourced in the EU. In this case the bioplastics used originates from berry baskets. The vase has a bottom protection made of cork to ensure no scratches and better balance of the product. Cork helps absorb CO2, and is harmlessly harvested from trees. It is also because of these properties fully biodegradable.
These two materials will ensure a long, durable and environmentally friendly future for this item. This product is recyclable and biodegradable.
Every vase has been individually made and will therefore be unique.

Bear in mind that this product is 3D printed and at this larger scale printer lines and differences in continuity is considered normal.

Please handle this product with care.

If necessary to clean please gently use a water damp cloth.

Please note that this product is biodegradable. In the longer run it will together with earth and water start to degrade hence we can not guarantee the durability of this product. However this process outside in nature is expected to take around 60 years. For ultimate performance and durability we recommend you to use it together with dried flowers, straws, branches etc.