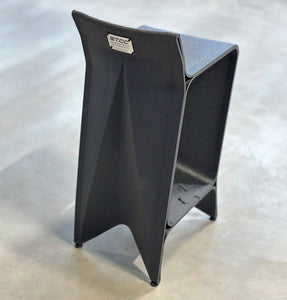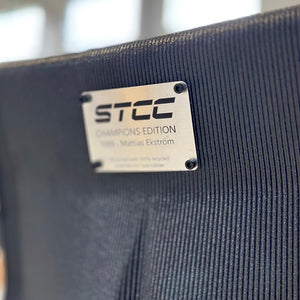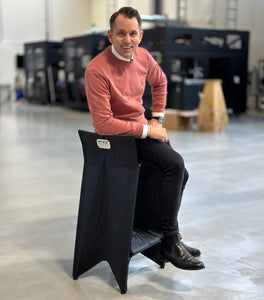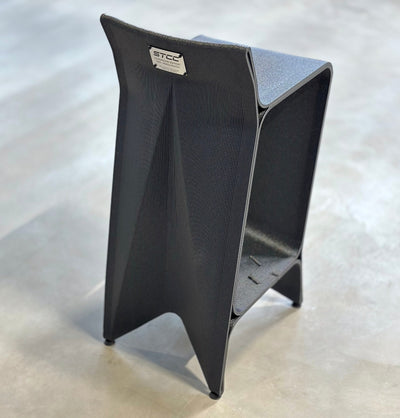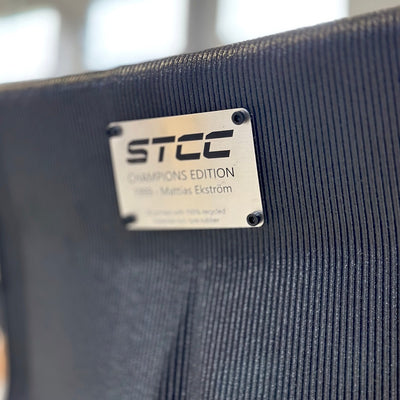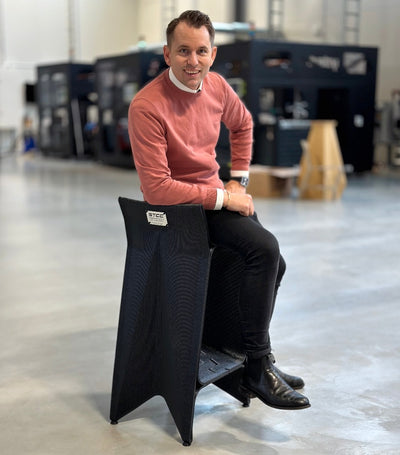 STCC champion edition - together we are unfolding the future with these black velvet tyre rubber bar chairs made with unique ID's. Each year is limited edition with a unique ID number. One chair per year. Made of old tires in to these cool, stylish and memorable bar chairs!
In collaboration with STCC, Scandinavian Touring Car Championship. Featured sitting on the chair is the STCC CEO Micke Bern.
Each product is 3D printed and chipped with a whatt.io tag to enable easy access to its digital product passport. Simply tap with your phone to scan the NFC chip to receive information about your unique chair such as authenticity and heritage data. 
The design of the Paper plane range was released during Stockholm Design Week 2023 in other materials. The design was born from the idea to break the mold and step away from the expected geometry and trends of 3D printed furniture. To inspire the next generation of large format printed furnishings and be original. To comply with these ideas, the restoration of defined legs stands as the foundation for the designs and consequently becomes one of the trademarks and what is referred to as Paper Plane. Also seen throughout the range are the visible printer lines creating an identity for the item like a piece of wood with veins. 
Size & Colour
Size
(LxWxH in mm) 512x384x875, Seat height 725, Seat depth 350.
Color: Black with some radiance. 
Material & Care
Made in post consumer old tire rubber mixed with post industrial epdm rubber and polymer. 
Each item is unique and differences in continuity is to be expected. 
Handle with care. Can withstand heat and water to a certain degree however the colour might change.
Suitable for both indoor and outdoor. 
The chair is made and designed in Sweden.
This product requires a pallet when shipping. Please contact us before placing the order if you want to order more than 1 item from the range. We can arrange with a combined pallet or local pick up in Malmö.
Shipping outside of Sweden; contact info@stylecollectionhome.com for a quote.